---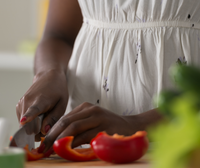 Feeling exhausted and depleted?
Grabbing sugary foods (or caffeine) to get you through the day?
Frustrated with yourself for hitting the drive through yet again?
You're not alone. So many of the women I work with feel exactly the same way.
With everything you need to do in a day, it's hard to prioritize taking care of you.
You've tried various meal plans and diets on your own, maybe with some success, only to end up right back where you started.
Or maybe you do ok with eating healthy, but when you're exhausted and stressed (or on your period) you find yourself dealing with cravings and stress eating.
Health conditions like high blood pressure, high cholesterol, and diabetes run in your family and you know you need to make a change.
You wish you had a simple plan to help you eat better, stay consistent, and feel good about what you eat and how you look.
What you need is a real person to talk through where you are now, where you want to be in the next few months, and help you make a plan to get there. 
A Nutrition Reset Session will help you identify healthier options and give you a starting point for what foods and how much of them you need to support your goals.
Here's how it works:
Click the "Select a Time" button to schedule a one hour phone session where we'll discuss your current situation and goals.


Based on your goals, I'll create a personalized nutrition guide with daily portion tracking and detailed charts to help you make healthy food choices.

We'll also discuss other healthy lifestyle goals such as exercise, stress management, and sleep.

You'll walk away with a detailed PDF guide outlining your plan for the next two weeks.


After two weeks, we'll schedule a 30 minute follow up call to review your progress and make a plan going forward.